The easiest way to make the most of PlugShare is to add your vehicle to your account. This allows PlugShare to handle the more complex plug filters so you can automatically find stations that work for your vehicle every time. We understand some of our users will have multiple electric vehicles they use regularly, and those vehicles may not all require the same plugs.
You can find more detailed, platform-specific guidance below for saving additional vehicles to your PlugShare account. If you have not yet added a vehicle, check out our article on adding your first vehicle: Add your Vehicle to PlugShare
With your vehicle(s) added to your account, searching for charging locations should be a breeze. You can add up to four (4) vehicles to your PlugShare account, and you'll need to ensure your primary vehicle is selected when searching for charging locations. You'll be able to switch between your vehicles to ensure that the PlugShare map is filtering for the correct plugs every time.
As new make and models come out, we'll be sure to update the options. If you do not see your vehicle in our selection, please contact our team with the details so that we can make the addition to our menu: Submit a request
Add multiple vehicles on Android
From the landing page, select "Me" at the bottom of the screen
Select "View Profile" toward the middle of the menu
Tap "Change Vehicle" for the option to update your primary vehicle
Tap "Add Vehicle" below the vehicle options
Select the make, model, and trim of your vehicle
Tap "Done" below your choices to save the vehicle to your PlugShare account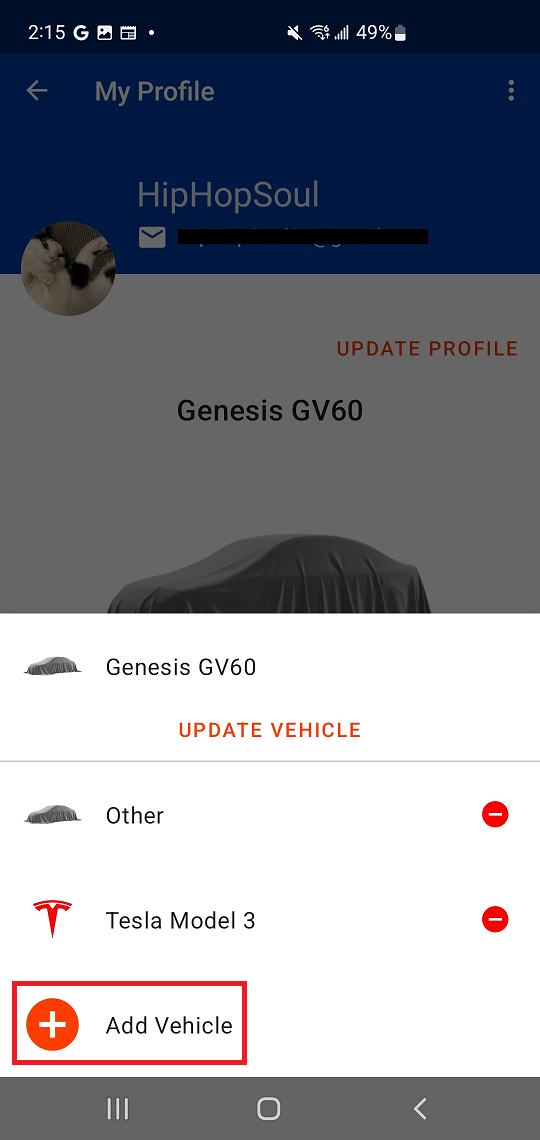 Add multiple vehicles on iOS (Apple)
From the landing page, select "Me" on the bottom of the screen
Tap the name of your primary vehicle in blue at the top of the "Me" page
Select "Manage vehicles" from the popover menu
Tap "Add" on the top right
Scroll through the list of cars to select the make, model, trim, and color of your vehicle

If the brand of your vehicle offers multiple electric vehicle models, it will expand for you to select the exact model of your car

When enough details are provided, an "OK" button will appear on the vehicle's image or logo; tap "OK" to add the vehicle to your PlugShare account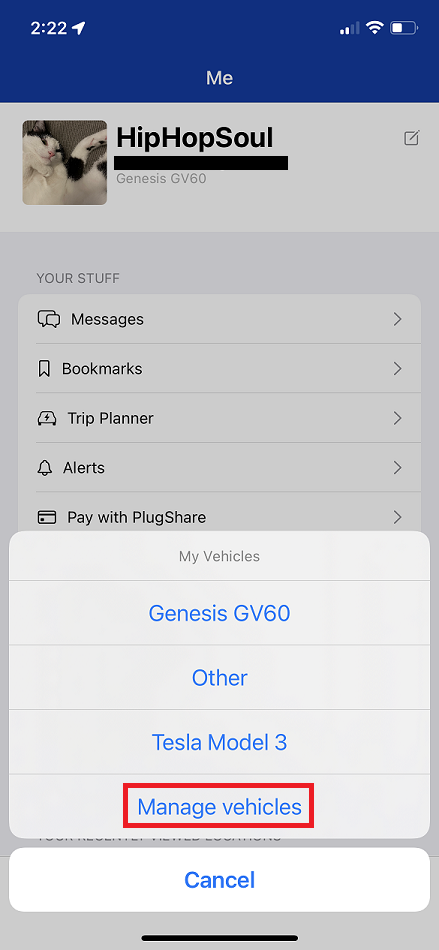 Add multiple vehicles on the web (plugshare.com)
Select your vehicle's name on the top right corner


This is the name of the vehicle you've already added to your account.

Click "Manage Vehicles" to begin adding another car to your list
Click the option to "+ Add New"
Provide the make, model, and other characteristics of your car
Select "Add Vehicle" to save it to your account