Our active PlugShare community consistently checks in and leaves comments about the charging locations near you. These check ins translate into a location's PlugScore, which appears in the green rectangle to the left of each location listing. You can view PlugScores from the Station Summary icon on the map as well as within the full Station Information window.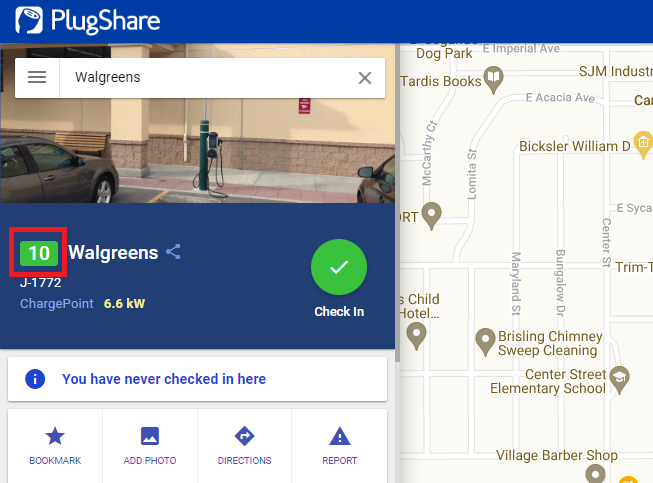 How Check ins influence a location's PlugScore
As stations and even networks evolve, the quality of any given location can fluctuate. Rather than provide an all-time average score, a location's PlugScore will give users a snapshot of recent interactions. Generally, if someone indicates they successfully charged, the PlugScore will increase; if someone reports that they could not charge at the location, it will decrease.


Note: To preserve the integrity of the PlugScore, please only contribute one (1) check-in per visit to a charging location.

Here are the specific criteria that dictate a location's PlugScore:
Based on the ten (10) most recent verified user check ins.

Checks ins from unverified user accounts do not impact a PlugScore (and appear as "anonymous" users). Verification means you have fully registered your account and verified your email ID.

Check ins must be completed within 1,000 meters of the location to factor into the PlugScore. If you check in later, after you've left the location, your check in may not impact the PlugScore.


Locations services are a required feature and

must

be turned on in order for the above factor to apply for your check in.
PlugShare's rating system ensures that every location receives a fair and accurate rating, but we always recommend that you review check in comments to ensure the stations are working. If you feel as though a location's PlugScore does not accurately reflect your experience with it, be sure to check in - you might have more of an impact than you think!

Influences for a positive PlugScore
When a user reports a positive experience, the location's PlugScore rises. When you check in and indicate that you Successfully Charged, then your check in will have a positive impact on that location's PlugScore.

Influences for a negative PlugScore
When a user checks in at a location and confirms they were unable to charge, this is considered a negative experience. Users can select their reason for not being able to charge, ranging from a broken plug to payment issue to the charger being blocked.
Even if the reason is outside of the location owner's control, we encourage users to be honest about their experience. A PlugScore often informs whether users visit a location, and a consistently busy and unavailable location would be a reason that our users might want to look elsewhere.
Our editorial team also reviews all check ins, and they'll contact location owners if they notice any trends that could be remedied. If the owner takes action to fix a persistent issue, then their PlugScore will rise in no time! Remember, PlugScores reflect the experiences of its most recent users to provide our community with the most updated information possible on any location.

Leaving a neutral comment
Neutral comments or check ins do not impact the PlugScore. From any platform, you'll always have the option to "Leave a Comment" when checking in. We know that some users have a neutral experience, but want to provide helpful details to other PlugShare users or to the location owner. A neutral check in will also appear in your personal Activity Feed!