Do you want to...
Keep a close watch on your most frequently visited locations?
Get notified about new locations or chargers within a specific radius?
Temporarily monitor locations on your route where you know you'll be stopping to charge (especially handy when using the Trip Planner)?
Station alerts are here to help! So long as you have created a PlugShare account, these alerts are available on both our Android and iOS (Apple) mobile apps. Find our guidance below for setting up and managing these types of alerts on your mobile device:
Important note:
To customize the type of notifications you receive on your mobile device, you will need to manage your notification preferences from your device settings. You can find more details on managing your device's notifications from Android or Apple directly.
Set alerts from a specific location
When you set up alerts for specific locations, you'll receive push notifications on your mobile device right when an event occurs. To set an alert for a specific location:
Tap the Station Summary icon on the PlugShare map to open the full Station Details window
Select "Alerts" within the Station Details window

On iOS (Apple) devices, tap the meatball menu (ellipsis ...) on the top right of the Station Details; you can then select "Alert" from the popover menu

Select the alert options you would like to enable (find more on these options below)
Your preferences will save automatically, so tap the button on the top left to go back to the Station Details page when you're satisfied
If you already have alerts set for a specific location, you can follow the same steps above to edit or remove your alerts for that location.
Station notification options:
A station goes offline

Receive an alert every time the location is closed for public use.

All stations are in use

Receive an alert any time all of the chargers at the specific location are in use.

New reviews or photos

Receive an alert any time another PlugShare user completes a check in with comments or photos at the location.

A station becomes available

Receive an alert any time a charger at the specific location becomes available for use after another vehicle has completed charging and unplugged from the charging station.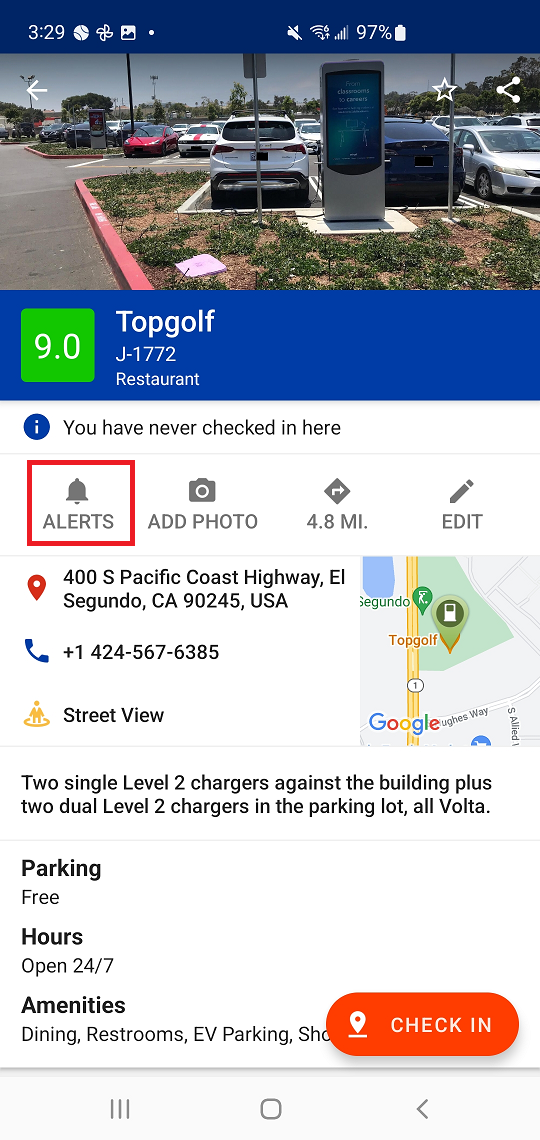 Set general alert for new locations/chargers
If you'd like to receive alerts on new locations or chargers within a certain radius of your current location, you can do so from the "Alerts" page within your PlugShare account. To turn on these alerts:
From the landing page, select "Me" at the bottom of the screen
Within the "Me" page, select "Alerts"
Select whether you would like to turn on alerts for New Public Stations, New Shared Charger, or both

New Public Stations = alerts for new charging locations
New Shared Charger = alerts for new chargers at an existing location

Confirm the radius from your current location to set the area where you'd like to receive notifications

Note: If you select both options for general alerts, PlugShare will notify you about new locations or chargers within the same radius.