The region settings in your PlugShare account influence the locations and the filters that you'll see on the PlugShare map. Changing your region is often helpful if you are searching for chargers in another country; maybe you live in Asia, but you've rented an electric vehicle for your vacation in Europe. While you don't need to update the region for your account, you may find that you need to update the region within your map filters to allow for different chargers or network providers that are specific to the region where you're driving.
For details on updating the region of your PlugShare account, select your platform below:
If you're traveling and also need to update your distance units to match the vehicle, you can find more here: Change your Distance Units
If you have moved to a new region and want to update your region on the account level, check out our article: Update your PlugShare Account
Important note:
When we say "your region," we're usually referring to either the country or even broader region where you are located (like the US or North America); this means that you will not need to update your region if you are in another area of the same country.
Change your region on Android
From the landing page, select the "Filter" icon toward the bottom right of the map
At the top of the "Map Filters" page, tap the option "Use My Current Location"

This will be turned on by default to ensure locations are found in your area

Tap the new option will appear labeled "Choose Your Country"
You can scroll through the list or type the country out
Once found, tap and the option will automatically be applied
Change your region on iOS (Apple)
From the landing page, select the "Filter" icon toward the bottom right of the map
At the top of the "Map Filters" page, tap the blue name of the region next to "Showing filters for"
Select the country you want to view or tap "Use my current location" to update your map and filters to the appropriate region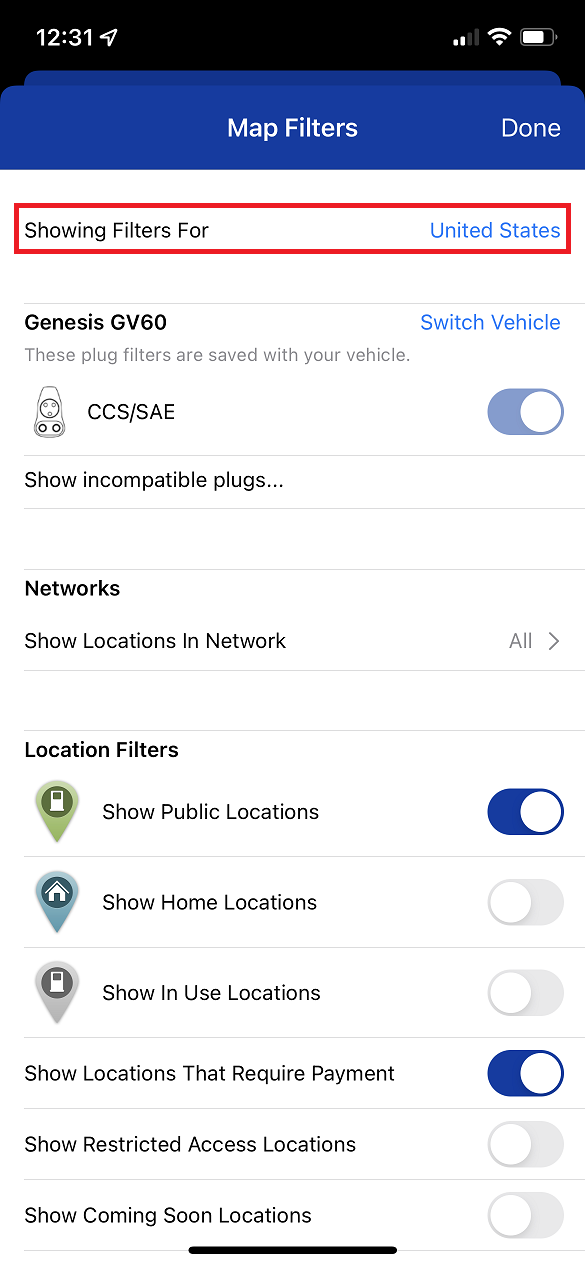 Change your region on the Web (plugshare.com)
Click the three lines (hamburger menu) on the top left to open the main menu
Select "Filters" toward the top to open the Filters section
Click the drop-down from the first option, "Showing filters for"
Select the country you want to view or "Use my current location" to update your map and filters to the appropriate region