We know that elevation impacts your vehicle's range, especially when driving through steep terrain. That's when your trip's Elevation Data is helpful - it allows you to account for elevation changes along your route, helping you to fully plan out the expected range of your vehicle.
You'll be able to account for elevation as you go through the process of creating your trip; this means the elevation data is available on PlugShare's iOS app or on the web using a desktop browser.
For Android or mobile browser users:
If you are using PlugShare with our Android app or your mobile browser, you must access this feature on a desktop computer browser. To create or edit a trip, as well as review Elevation Data, our community must use an iOS (Apple) device or a desktop browser with a screen at least 1200px wide. After a trip is saved to your account, you can review it on any device as well as access navigation tools related to the trip.
Our team is actively working to expand the Trip Planner's functionality, including the Elevation Data, and we appreciate your patience as we work to improve our community's experience!
Tips on reviewing elevation data
If you see a sudden rise in elevation along your route, you should generally make adjustments and plan for an earlier stop on your trip to ensure you make it to your destination.
View elevation data before you add stops to your trip - if you see higher elevation at the start of your trip, you can prepare to plan shorter distances between stops without impacting stops within your vehicle's normal range later.
If you do need to edit your stops later due to elevation, we recommend editing your trip on a desktop browser. Trip Planner on the web will highlight any distances between stops which fall outside of your vehicle's max range, making it easier to determine any other stops that could need adjusting.
The elevation data in PlugShare will focus on presenting you with data around your trip as whole as well as between stops you've added to your trip. It's best to focus on the elevation between stops to avoid becoming overwhelmed.
If you're not sure how elevation impacts your specific vehicle, we recommend reviewing materials directly from the manufacturer. Typically your vehicle will give you insight from its console, but your manufacturer may provide additional resources online to help you prepare for elevation.
Check Elevation data on a desktop browser (plugshare.com)
Open the Trip Planner panel, either by selecting a previously saved trip or by creating a new trip with a start and destination address
Click the "Elevation" button below the trip's summary in the Trip Planner panel
Review your elevation data to determine if any adjustments are needed for your trip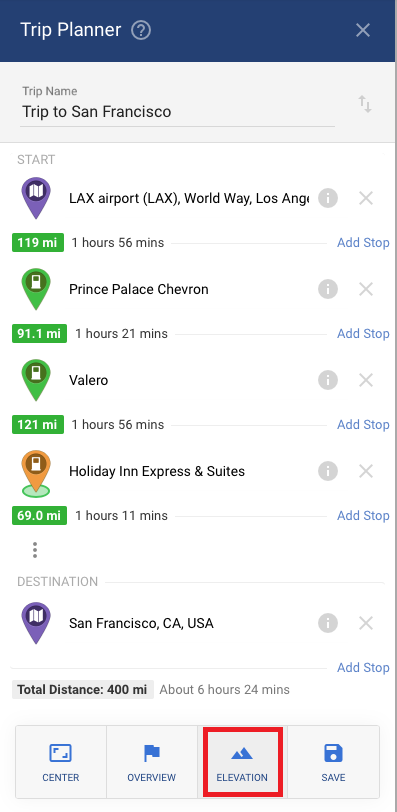 Check elevation on Trip Planner for iOS (Apple)
You can review a trip's elevation data when you're in the process of creating a new trip or within a trip you've already created.
From a new trip:
After creating your trip and choosing your route, tap the charging locations along your route that look like good stops for your trip
Tap the Elevation Data icon located above the filter options icon toward the lower right of the PlugShare map
Review the Elevation Data for each leg of your trip
From a saved trip:
From the "Trips" page, select a previously saved trip to open its Trip Planner details
Tap "Edit" on the top right, next to the trip's name
Select a charging location on or nearby your trip's route
Tap the Elevation Data icon located above the filter options icon toward the lower right of the PlugShare map
Review the Elevation Data for each leg of your trip