Now that you have your trip saved to your PlugShare account, it's ready for you to access it and get moving from anywhere you log in!
Some tips from PlugShare support:
For smoothest navigation, PlugShare is designed for you to access directions to each stop along the journey. As you reach one stop, we encourage you to pull up directions to the next until you reach your destination. If you'd like full directions from the beginning to end of your journey, you can access Google Maps from a desktop computer to send the full instruction to yourself. Find more on this from Google: Share, send, or print directions from Google Maps
Remember that PlugShare is not a navigation platform. Our app talks to platforms like Google or Apple Maps to help you get directions to the charging locations on the way to your destination. Please ensure that your preferred navigation app is available on your device for a smooth transition to accessing directions.
Starting navigation directly from your vehicle will vary based on your car and the technology that it uses (either Android auto or Apple CarPlay).
Some locations do not match name for name between PlugShare charging locations and Google's locations. To correct this, we pass through addresses and coordinates for a better match in navigation apps.
Open navigation from PlugShare mobile app
From the landing page, select "Trips" on the bottom of the screen
Within the "Trips" page, select the saved trip you wish to start
After the map of your trip loads, tap the first stop on the trip
A small station summary will appear at the bottom of the screen; tap "Directions"
Select the routing app you prefer to use from the popover window
Your preferred navigation app will open with directions to the location selected within the Trip Planner
Review the route and start your trip directly within the navigation app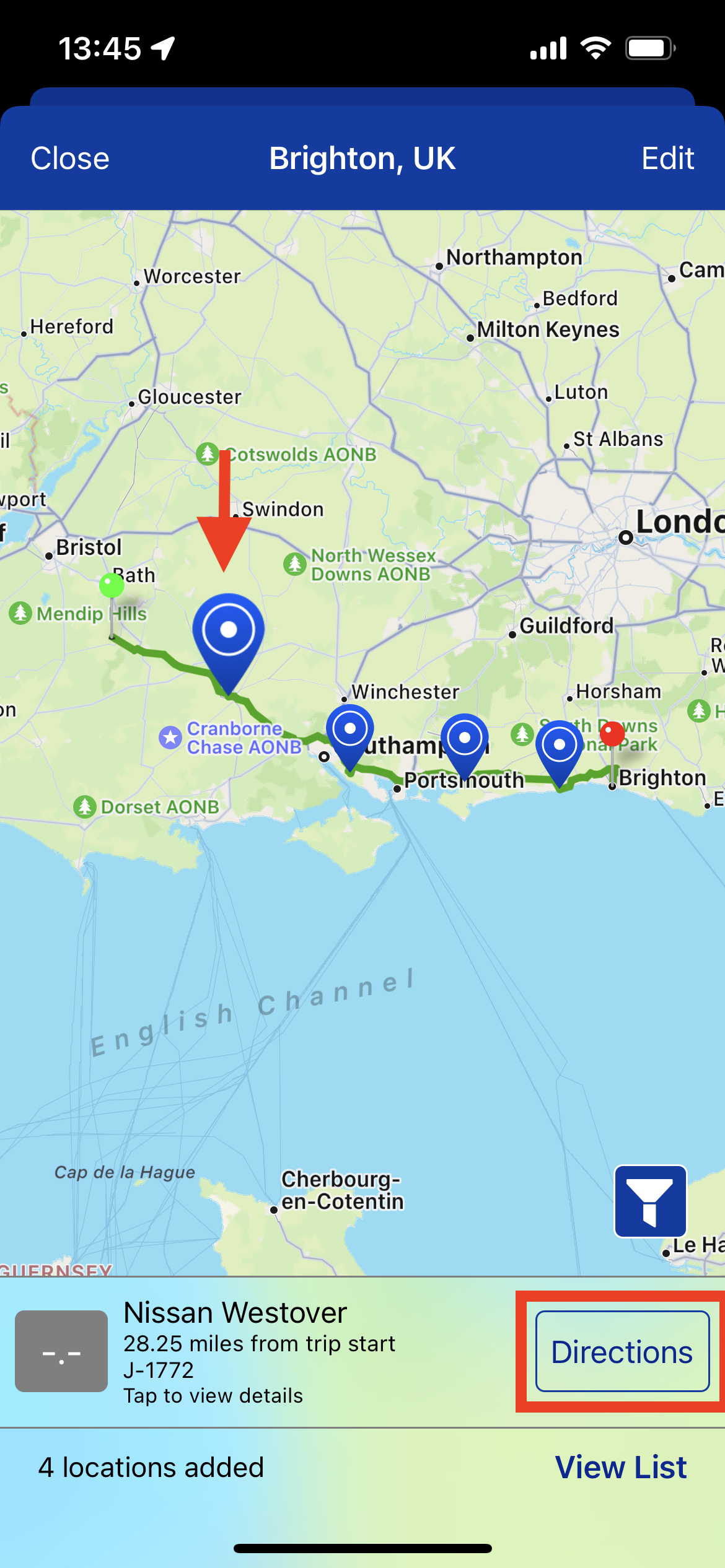 Open navigation from a mobile browser (plugshare.com)
From the main menu, open the "Trip Planner" option and select the saved trip you wish to begin
Select the first location on your route to open the Station Details window

This can also be done by clicking the "I" icon to the right of the pop up

Below the information panel, select "Directions"
The browser will open your default navigation app with directions to this location
Review the route and start your trip directly within the navigation app
Print directions from a desktop browser (plugshare.com)
Click the three lines (hamburger menu) on the top left to open the main menu

Open the "Trip Planner" option and select the saved trip you wish to begin

Scroll below the directions within the "Trip Planner" panel to the right of the screen and open the option "View Directions" in Google maps
Look for the option to expand the trip "Details"
Use the print icon to select your options and print
Important note: PlugShare does not actively monitor the functionality of Google Maps and its printing instructions. We've provided the above for reference, however we encourage you to review Google's article on printing directions for the most updated guidance: Share, send, or print directions from Google Maps