After you've created and saved your trip, you may need to go back and make edits. It absolutely happens! Select whether you're using PlugShare on the web or the PlugShare iOS (Apple) app for more detail on adding or removing stops on your trip.
If you're looking to make larger changes to your route, such as adding a detour or reversing your trip, check out Trip Planner: Edit your route.


Important note: At this time, trips cannot be created, removed, or edited on PlugShare's Android app or on plugshare.com using a mobile browser (a screen less than 1200px wide). Please make any edits using a desktop browser or our iOS app, and then access the updated trip on your device.
Add a stop on the web (plugshare.com)
Click the three lines (hamburger menu) on the top left to open the main menu
Click the three lines (hamburger menu) on the top left to open the main menu

Open the "Trip Planner" option and select the saved trip you wish to edit

From the Trip Planner panel on the right of your screen, click "Add a stop" to get specific on where in your route you wish to add stops

Select a location from the options shown on the PlugShare map (try to choose within the Range Radius!)
Click "Add to trip" from the location's popover
To remove a stop, you can:
Click the X next to the location name on the Trip Planner panel to the right
Open the location details on the map and click "Remove from Trip" within the location popover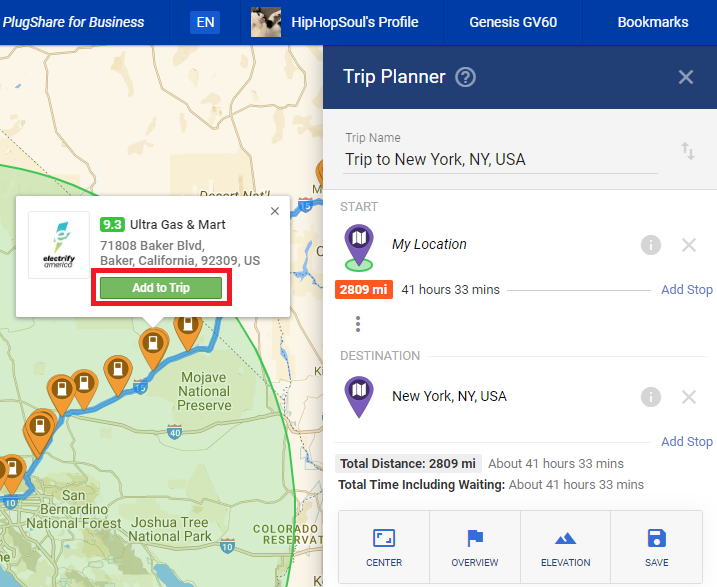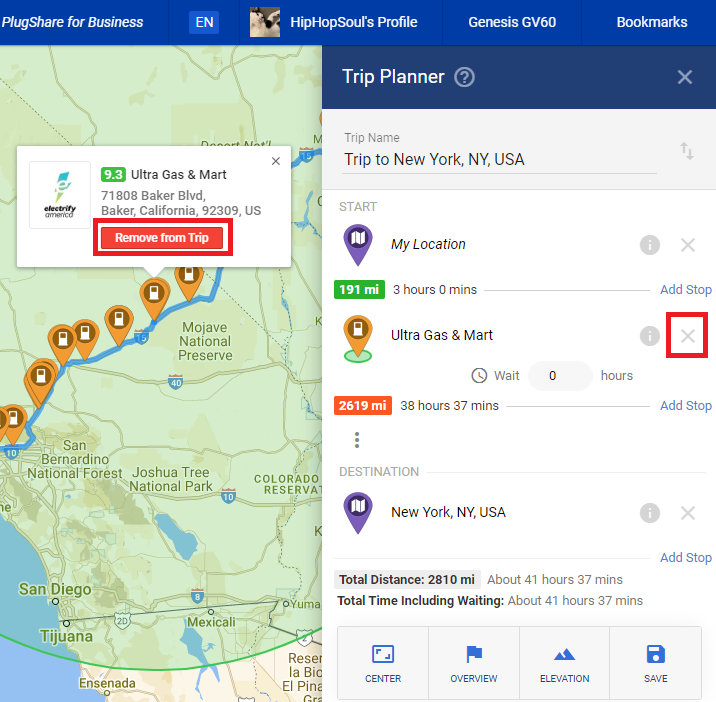 Add a stop on iOS (Apple)
From the landing page of the PlugShare app, select "Trips" on the bottom of the screen
Within the "My Trips" page, select the trip you wish to edit
Tap "Edit" in the top right of the trip
From the locations shown on the PlugShare map, select any location
Tap "Add to trip" from the location's detail sheet
To remove a stop, you can:
Remove from the map view:

Tap location you wish to remove (indicated along the route in dark blue)
Tap "Remove" from the location's detail sheet

Remove from the list view:

Tap "View List" on the lower right of the trip
Swipe left over the location you wish to remove
Tap "Delete" in red to confirm the location's removal from your trip