After you've taken a trip that you no longer need, you might want to delete it from your account. You can do so on a desktop browser or from our iOS (Apple) app. Select your device below for specific guidance on deleting a trip:
Disclaimer: After a trip is deleted from your PlugShare account, it cannot be recovered. If you'd like to have a record of where you have charged without retaining a trip, be sure to check in at any location. All of your check ins save to your account if you ever need to refer back!
If you simply want to remove a stop from your trip, you can find more guidance in our article Trip Planner: Add and remove stops/locations
Important note: At this time, trips cannot be created, edited, or deleted on PlugShare's Android app or on plugshare.com using a mobile browser (a screen less than 1200px wide). Please make any edits using a desktop browser or our iOS app, and then access the updated trip on your device.
Delete a trip from the web (plugshare.com)
From the main menu (expanded below the search bar), select "Trip Planner"
Click the "X" button in gray to the right of the trip you wish to delete
A pop-up will ask you to confirm that you want to delete the trip - click "Ok" to confirm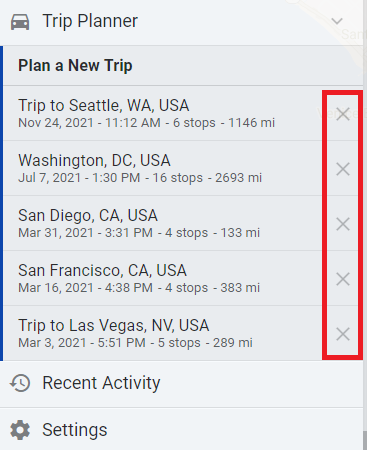 Delete a trip on iOS (Apple)
From the landing page, select "Trips" on the bottom of the screen
Within the "My Trips" page, swipe left on the trip you wish to delete
Tap "Delete" in red to confirm your deletion of the trip