If you are no longer driving a vehicle saved on your PlugShare account, removing your previous vehicle will help sort locating the correct locations! While you can add up to 4 vehicles to your account, we recommend keeping your vehicles to a minimum and up to date. This lowers any risk of accidentally filtering for charging locations based on a vehicle you're not driving.
You can find more detailed, platform-specific guidance below for removing vehicle from your PlugShare account.
At this time, editing a vehicle tied to your PlugShare account is not available on the mobile app. You can edit a vehicle's profile from plugshare.com if needed. If you have incorrectly added a vehicle to your PlugShare account from your mobile device, please delete the incorrect vehicle and add a new vehicle with the correct details.
If you need to add a new vehicle to your PlugShare account or want more details on switching between vehicles, check out our resources below:
Delete vehicle on Android
From the landing page, select "Me" at the bottom of the screen
Select "View Profile" toward the middle of the menu
Tap "Change Vehicle" for the option to update your primary vehicle

Locate the vehicle you wish to delete then click the red circle to the right of name

The vehicle will be removed automatically (no confirmation will be prompted)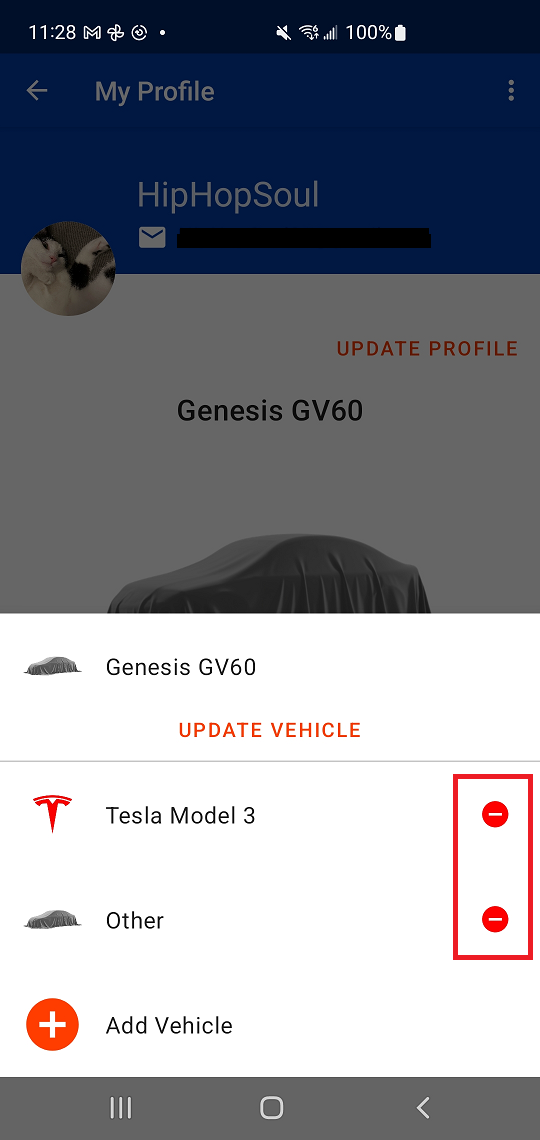 Delete vehicle on iOS (Apple)
From the landing page, select "Me" on the bottom of the screen
Tap the name of your primary vehicle in blue at the top of the "Me" page
Select "Manage vehicles" from the popover menu
On the vehicle you wish to delete, swipe left
Tap the red "Delete" button that appears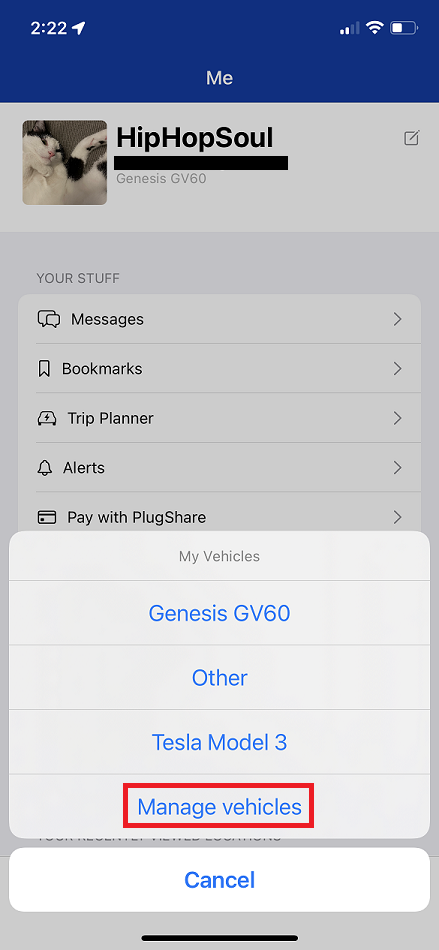 Edit or delete vehicles on the web (plugshare.com)
Select your vehicle's name on the top right corner


This is the name of the vehicle you've already added to your account.

Click "Manage Vehicles" to open the "My Vehicles" window
Select the vehicle you wish to delete


Edit details as needed and click "Update Vehicle"
Click "Delete Vehicle" to remove it from your account