Photos of charging locations are extremely helpful, whether confirming that you're at the correct location or navigating around the area to find a specific EV charger. Anyone can add photos to a location, and we encourage our community to provide them whenever possible.
PlugShare accepts jpg, png, and gif file types. Select the platform you're using for more direction on adding photos:
A note on deleting photos:
To prevent the removal of photos, we've restricted access for users to delete photos of location listings. If you posted a photo by mistake, find a photo posted by another driver that should be deleted, or would like to make edits to a photo, please let us know by submitting a form with the following details in the description:
Location name
Address
PlugShare URL of the location
Description of the photo
Original photo uploaded to the location (if applicable)
Once received, our team will look into the photo and keep you updated. We do our best to address these requests as soon as possible to ensure all locations provide the latest location information in real time. Thanks and happy charging!
Add a station photo on Android
Tap the Station Summary icon on the PlugShare map to open the full Station Details window
Select "Add Photo" within the Station Details window
Select "Camera" or "Gallery" to take or add a picture previously taken

If this is your first time adding a photo, you will need to allow access your device

Choose the photo you wish to add or take a photo from your mobile device
Add caption as helpful information for other users (optional)
Tap "Submit" to apply your photo to the location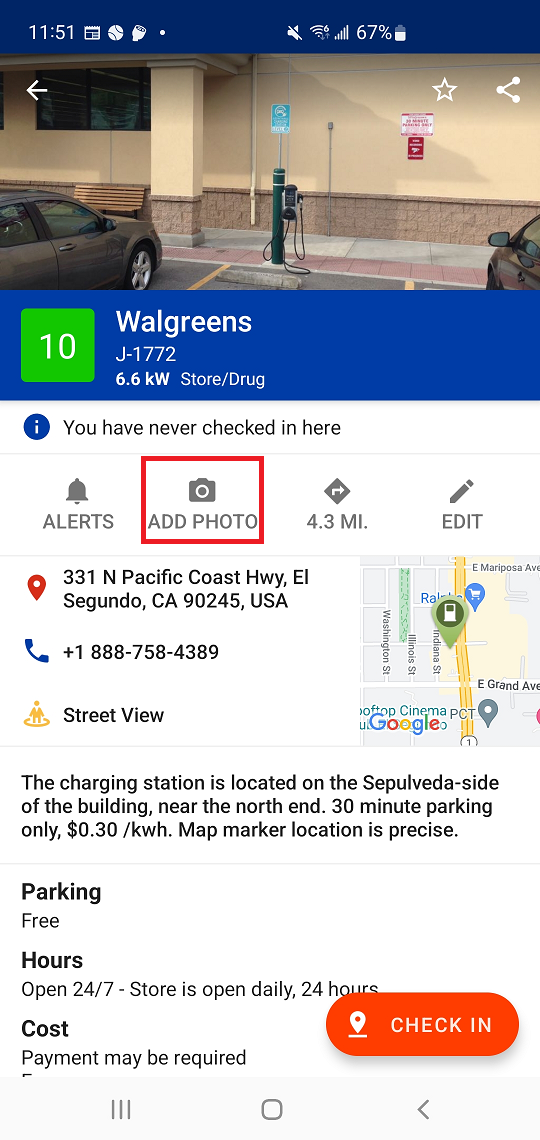 Add a station photo on iOS (Apple)
Tap the Station Summary icon on the PlugShare map to open the full Station Details window
Tap the meatball menu (ellipsis ...) on the top right of the Station Details
Select "Add Photo" from the popover menu and choose:

"Take Photo" to take a picture directly from the PlugShare app
"Choose Existing Photo" from your device if you've already taken the photo
If this is your first time adding a photo, you will need to allow access your device

Confirm the photo you wish to add
Add a caption as helpful information for other users (optional)
Tap "Submit" to apply your photo to the location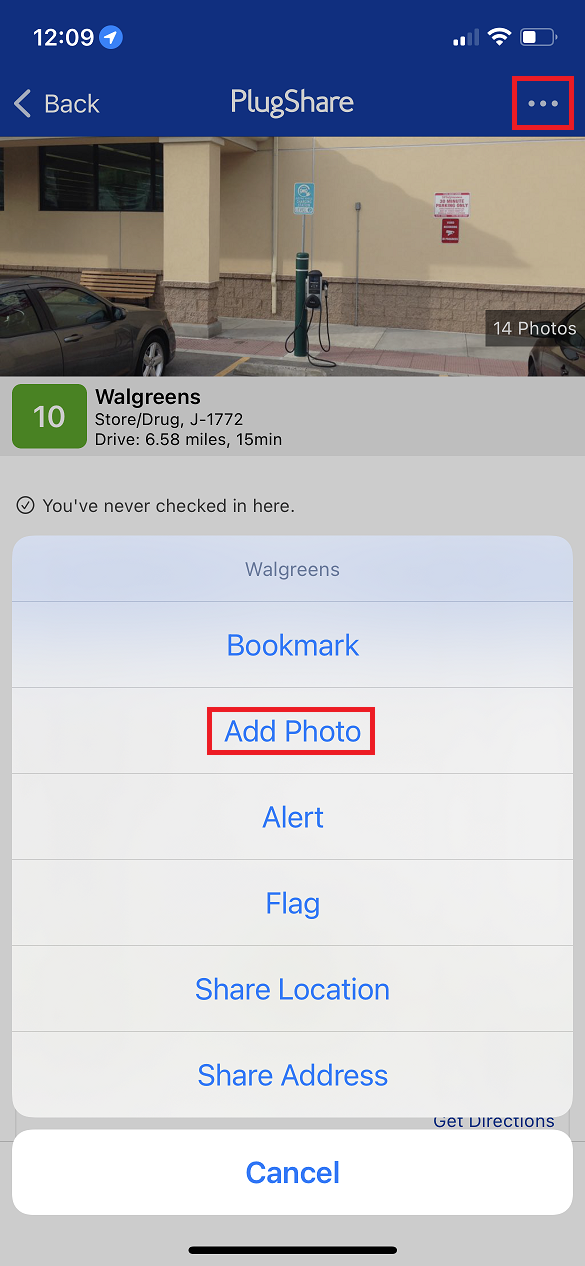 Add a station photo on the web (plugshare.com)
Open the full Station Details window via search or by tapping the Station Summary icon from the PlugShare map
Select "Add Photo" within the Station Details window

You will also see the option to "Add Photo" when viewing all photos connected to the listing

Click "Select File" from your browser and choose the photo followed by "Open"
Add a caption that might help other users at the location (optional)
Click "Upload" to save the photo