When reviewing more details about any given location, we encourage you to review the Station Details window. This window provides you with expanded details about a location as well as actions you can take.
In this article, you'll find a full list of Station Details features; you can click on any item to find more details about it within this page, or any bolded listings will open an expanded article about that specific feature.
Location name and summary
Within each location information window, a banner heading will provide you with the name of the location and some basic details about the available charging stations at the location. The location's name is effectively a short description of the location, usually reflecting the business or parking structure where the station is located.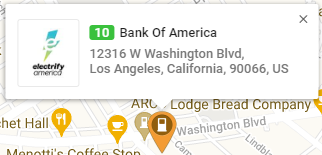 Location Details
The specific address of the location is listed here. If available, the network and/or a contact number to reach the location owner are provided as well. If you experience any issues using a charger at the location, use the contact information provided within the details or on the charger itself for support. We've gathered the contact information for some of our larger networks here: Network Support Details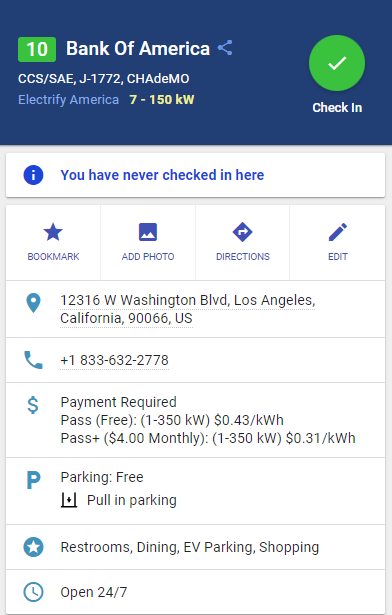 Get Directions
When you tap "Get Directions" on a location, you'll be prompted to select your preferred navigation platform for directions. PlugShare will send the exact coordinates of the location to your navigation app to ensure you receive precise instructions to the charging location.
Remember that PlugShare is not a navigation platform, however our app talks to platforms like Google or Apple Maps to help you get directions. Please ensure that your preferred navigation app is available on your device for a smooth transition to accessing directions.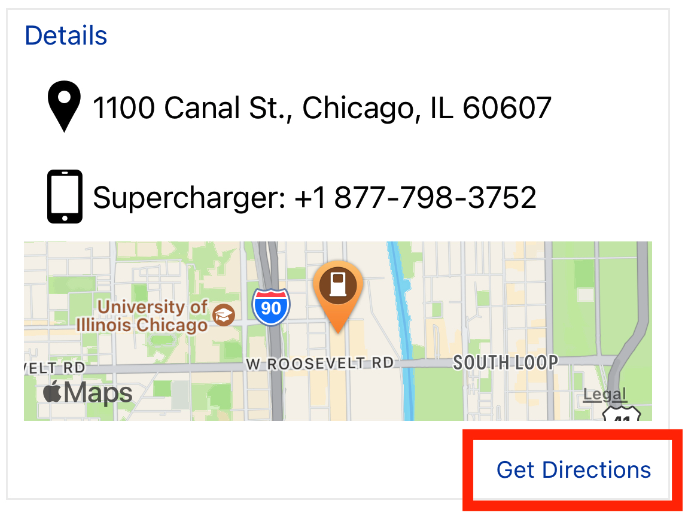 Cost and Parking
Some charging locations are free to use while others require payment to use them. Some chargers may be located in a paid parking structure as well. Any details regarding costs for charging or parking will be listed in this section so that you know what to expect before visiting the location.
Hours
If a charging location operates with limited hours or is located within a structure with limited hours, details will be provided here. If the location is available 24/7, that will also be indicated. If a location does not have any information listed under hours, then be sure to review any check in comments or other location details to confirm it will be available when you plan to charge there.
Description
Many helpful details will be provided in the description, so always be sure to review it for every location. You can find details around pricing, parking, and hours; some locations will include tips for navigating to the charger at the location or details for what you can expect.
Amenities
Many locations offer perks in addition to charging your vehicle. Locations on the PlugShare map will indicate if they include Lodging, Dining, Restrooms, EV Parking, Valet Parking, Parks, WiFi, Shopping, Grocery, Hiking, and/or Camping.
Plugs and Station charger details
Under the "Plug" section, you'll find a summary of the types of plugs at the location as well as any available Network details. To see more specific information about the plugs available, you can tap "Station Details" within this section of the window to open a full list of each available plug at the location.
At fast charging locations, kilowatt details of the charging plugs is also available. You can find more about reviewing power data in the article: Minimum Power Data and Filters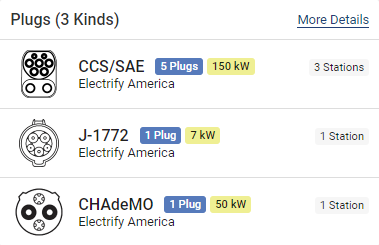 Location Check ins
If available, we always recommend reviewing a location's recent check ins. Our community will leave check ins based on their experience, and check in comments can provide valuable details on what you can expect if you visit the location. In general, a location with recent check ins is also a great sign that you're viewing an active location that's worth a visit.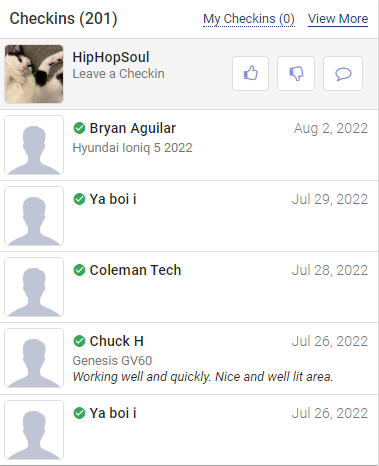 Sharing options
PlugShare make it easy to share a charging location, either by its URL or its address. Sharing will depend on the platform you are using:
Android: Tap the Share icon in the top right of a location to share the address or the location
iOS (Apple): Tap the meatball menu (... ellipsis) at the top right and select "Share Location" for a link or "Share Address"
Web (plugshare.com): Either copy the URL from your browser's address bar or scroll to the end of the Station Details window for a quick copy button